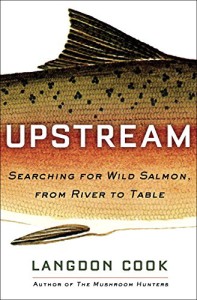 Upstream: Searching for Wild Salmon, from River to Table
From Kirkus: A tale of a species on life support and the ramifications for people, nature, and place… Exposing striking human-salmon parallels, these stories tell of settlement and cultural clashes, of life cycles and migrations, of deforestation and industrial agriculture, of racism and gentrification, and Cook skillfully illustrates the interconnectedness of it all. Seeking the wild in a landscape fraught with man-made alteration and annihilation, the author interrogates the nature of wildness, posing urgent, provocative questions… Blurring boundaries and complicating the oversimplified, Cook provides a moving, artfully layered story of strength and vulnerability, offering glimpses of hope for growing humility and reverence and for shifting human-nature relationships.

From Publishers Weekly: In this insightful book, Cook clearly outlines scientific information, giving details on the salmon's life cycle, distribution, preferred habitat, and physical appearance. But the focus here is less on facts and research and more on how "Pacific salmon culture in North America is a dance between fish and humanity." Cook connects with chefs, fishermen, ecologists, fish wranglers, reef netters, Native Americans, and countless others to get their perspectives on the state of dwindling salmon stocks and the impact on them of fish hatcheries, commercial fishing, dam building/removal, and wildlife conservation. In the end, Cook acknowledges that salmon's recovery, just like its demise, will come from people…this work is a great place to learn what needs to done—and an entertaining view on the positive and negative connections humans have with the natural environment.

From Library Journal: Cook deftly conveys his love of nature, the beauty of the Pacific Northwest, and the delectable eating provided by fresh caught wild salmon…passionate and well-written.

From Booklist: Cook's salmon travelogue easily appeals to anglers, salmon eaters, nature lovers and everyone in between. The Pacific salmon is a great American fish, and by writing about it with such care and curiosity, Cook establishes its ecological importance and tells a great American story.

From the publisher: Upstream is an in-depth and timely look at salmon—one of the last wild foods on our table—for readers of Susan Orlean, Mark Kurlansky and John McPhee. As the author travels to meet a variety of colorful people associated with this unique species, from Alaskan anglers to fish farm owners to four-star chefs, he reports on its remarkable place at the intersection of nature, commerce, cuisine, and human history.