Order Upstream: Searching for Wild Salmon, from River to Table
From the publisher: Upstream is an in-depth and timely look at salmon—one of the last wild foods on our table—for readers of Susan Orlean, Mark Kurlansky and John McPhee. As the author travels to meet a variety of colorful people associated with this unique species, from Alaskan anglers to fish farm owners to four-star chefs, he reports on its remarkable place at the intersection of nature, commerce, cuisine, and human history.
***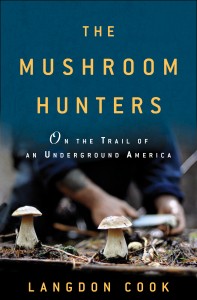 ***WINNER***  2014 Pacific Northwest Book Award
***FINALIST***  2014 Washington State Book Award
***Best of the Year***  Amazon.com
The Mushroom Hunters: On the Trail of an Underground America is now on sale at a book store near you, including Amazon, Apple, Barnes & Noble, and Indiebound.
Reviews are in: Publishers Weekly finds it "intrepid and inspired." The Wall Street Journal calls it a "rollicking narrative…delivering vivid and cinematic scenes on every page." Amazon.com picked it as one of the Best Books of the Year. The Seattle Times says:
Like Susan Orlean in "The Orchid Thief," Seattle author Cook shines a light on a shady subculture operating at the seam between wilderness and commerce. Like author Michael Pollan, he knows that every bite of food these days has a complex, often unsavory backstory. Like the late Hunter Thompson, he not only goes along for the ride with the shifty characters he's writing about, but drives the getaway car.
Here's a quote from a Library Journal review: Not simply about mushrooms, this book examines human behavior, economics, food, society, and nature. In the end, readers will have learned a great deal about U.S. economic and social structures—all while being entertained and enlightened by stories of gastronomy and mushrooms. Highly recommended.
Get a copy now at a bookstore near you, including Amazon, Apple, Barnes & Noble, and Indiebound.
* * *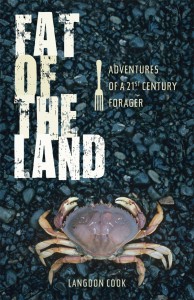 Praise for Fat of the Land: Adventures of a 21st Century Forager:
"Smart, funny, and hugely knowledgeable, Langdon Cook is a walking field guide and a gifted storyteller. Fat of the Land is a welcome kick in the pants to get outside and start foraging for our suppers." —Molly Wizenberg, author of A Homemade Life: Stories and Recipes From My Kitchen Table
"Cook's book is simultaneously lyrical, practical and quixotic… His essays paint a timeless portrait of the region, evoking its dark ambiguities as well as its brighter joys." —The Seattle Times
"With his beautifully-crafted prose, rare gift for storytelling, and good humor to spare, Langdon Cook serves up the best kind of nature writing: drawing readers along on his wild adventures, and leaving us with a deepened sense of daily sustenance in the natural world." —Lyanda Lynn Haupt, author of Crow Planet: Essential Wisdom from the Urban Wilderness
"Langdon Cook understands that the goal of hunting and foraging is not just to eat, but to eat well. Any city-eater can grab something at a supermarket, but to feel the thrill of grappling with lingcod or plucking dubious mushrooms gives the reader maximum pleasure—and zero pain. Provided you follow Cook's recipes to satiate your whetted appetite. As a neophyte forager with a well-trained palate, Cook knows best." —Betty Fussell, author of My Kitchen Wars and Raising Steaks: The Life & Times of American Beef
"Langdon Cook celebrates the bounty of the land and sea through the pleasure of foraging. It's an inspiration and a reminder that eating your local foods connects you to the land you live on." —Maria Hines, Chef/Owner, Tilth Restaurant
"In Fat of the Land, Langdon Cook invites us to share in his enthusiastic, salubrious, wild food foraging quests. Get out of town, breathe in the fresh air, hear the quiet, exercise, feel good, connect with nature and the season—then return to the kitchen to delicious preparations of dandelion greens, squid, fiddleheads, or whatever the quarry. Lively, informative, soul-satisfying narrative." —Jon Rowley, Contributing Editor, Gourmet